Current Day Severe Outlook Map from the Storm Prediction Center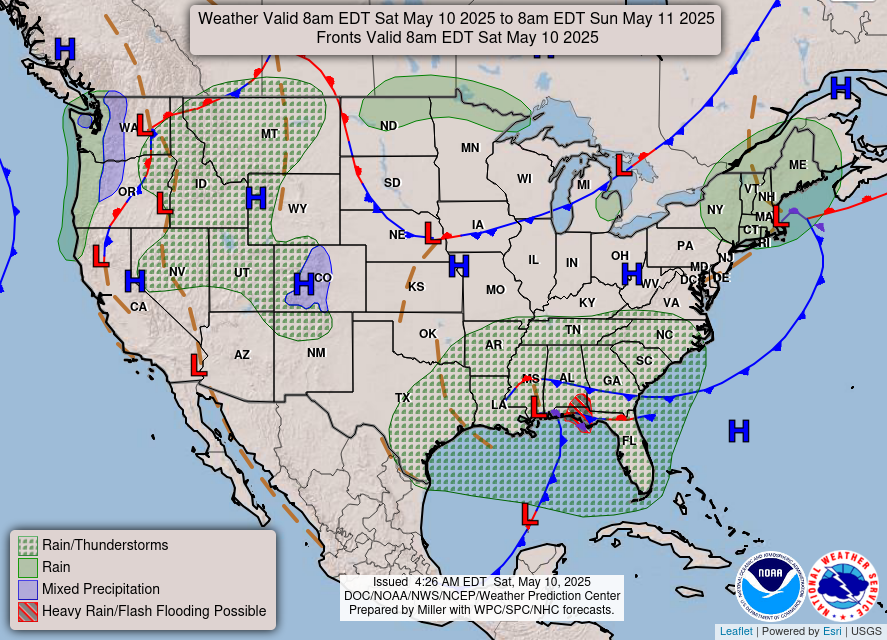 Current Webcam Snapshot Looking toward Lindsay and Muenster, TX area
Updated:

@

20-Oct-2018 1:48am - next update at 2:03am

Summary / Temperature
Wind
Rain
Outlook

Overcast

58.0°F






Cool



Feels like:

58°F



24-hr difference
1.6°F

Today
Yesterday
High:

58.9°F


12:00am
59.0°F
3:19pm
Low:

58.0°F


1:45am
55.3°F
9:15am

WNW




1.4


Gust:


2.0 mph

1

Bft -

Light air

Today:

5.0 mph

12:23am

Gust Month: 30.0 mph October 9

Rain Today:

0.00 in

Rain Rate (/hr):

0.00 in

Rain Yesterday:

0.83 in

This Month:

8.61 in

Season Total:

34.68 in

1 day since last rain.

Saturday


Widespread Fog then Mostly Sunny


Humidity & Barometer
Almanac
Moon

Humidity:

97

%
Dew Point:

57.2°F

Barometer:

1020.97 inHg

Baro Trend:

Steady

| | |
| --- | --- |
| Sunrise: | 7:37am |
| Sunset: | 6:49pm |
| Moonset: | 3:37am |
| Moonrise: | 5:00pm |

Waxing Gibbous
84%
Illuminated

UV Index Forecast
UV Index Forecast
NWS Weather Forecast - Outlook: Overnight & Saturday
Overnight


Areas Of Fog

Lo

54 °F

NWS forecast: Areas of fog after 4am. Mostly cloudy, with a low around 54. Northwest wind around 5 mph.

Saturday


Widespread Fog then Mostly Sunny

Hi

69 °F

NWS forecast: Widespread fog before 11am. Mostly sunny, with a high near 69. North wind 5 to 15 mph, with gusts as high as 20 mph.